In today's busy life, things go random and we rarely find the right way to organize. To be honest, organizing things through a tabular form is sometimes the best solution. The concept applies to websites, where we need to keep various things in the table for easy readability.
There are many advantages of using a table in a WordPress website. Whether you want to represent a huge amount of data or want to make a product comparison, a table comes in handy. If you ever come across a table creation, the one thing you might have noticed. Creating an HTML table demands prior skill and design experience.
What if, you are using WordPress and want to create a table? Well, you don't have to make your hands dirty with codes. There are many WordPress table plugins that give you the power to create an awesome table.
I will show you some of the best table builder plugins for WordPress.
So let's get started.
Best WordPress Table Plugins
If you just search for the best WordPress table plugin, then hundreds of results pop up. A beginner might get confused and choose the wrong one. So we decide to do some research and found some great ones.
So let's have some in-depth analysis on them.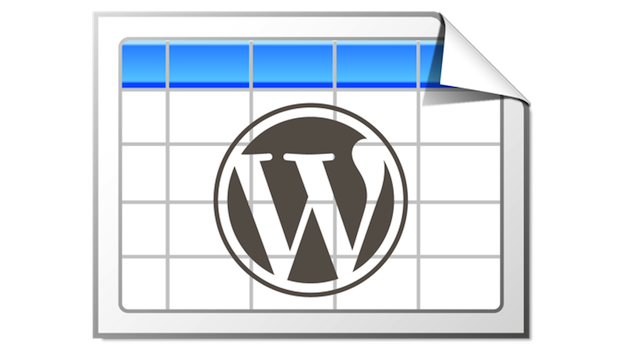 TablePress is the most famous WordPress plugin for creating beautiful tables. This plugin has become the first choice of beginners because of its ease of use and great set of features. It is open-source software.
Use the easy-to-use admin dashboard inside the WordPress site to create tables. Put data across rows and columns for easy access. You can create simple to advanced tabled using TablePress. If your table is long enough to fit on a page, then use the pagination feature. Rearrange the rows and columns by dragging and dropping them into the right place.
Display the table anywhere you want using the shortcode. Each table has a unique ID and you can use the same inside the shortcode. Import/export tables from/to Excel, CSV, HTML etc. Under Table Options, you can choose from various options to make your table beautiful.
TablePress is a free plugin and you can use it for creating unlimited tables. If you want to use additional features and useful enhancements then use TablePress extensions. The project relies on donations and recommends you consider a certain amount.
wpData Tables is another great WordPress table plugin having thousands of happy users. Currently, this plugin is being used by over 50K websites. This plugin allows you to create tables directly from the WP Admin dashboard.
You would get an Excel-like editor that works a lot like Excel or Google Sheets. You can manually enter data into the table or import it from external sources. Integrate Google Sheets to dynamically import data to a table. Create visually appealing charts using the render engines including Google Charts. You would get a lot of customization options to define the chart's style and behavior.
Want to create responsive tables so that it fits any display size? The wpData Tables has an in-built feature for creating completely responsive tables and charts. Add advanced filters and search functions so that visitors can easily find the desired results quickly. All the customization options are self-explanatory and you would have ultimate modification experience with this plugin.
Once you're done with everything, embed the table on any page using either a shortcode or a block. wpData Tables is available in free as well as paid versions. The price of wpData Tables premium (1 website) is $59 for a one-year license or $189 for a lifetime license.
WP Table Builder is another feature-rich plugin for creating stunning tables. No need to put your hands on the HTML coding. You can use the simple visual editor to create basic product comparison tables, data tables, pricing tables, and everything you want.
When it comes to user-friendliness and flexibility, this plugin will stay ahead in the race. You can 7 different elements in a table including image, button, star rating, custom HTML, etc. Use the drag and drop editor to place elements from the left panel into the table cells.
Create large tables with thousands of rows and columns using the import feature. You can import tables from CSV or XML files. Once the table creation is complete, hit the save button to generate a shortcode. Access all the tables created from the WordPress dashboard and make changes if necessary.
WP Table Builder is available in both free and premium versions. If you want to enjoy extra features then switch to the paid version. For a single website, the plugin costs $39 with priority support and a 1-year update.
WooCommerce Product Table Lite is a plugin helpful for creating various tables in eCommerce websites. Visitors expect a nice user interface with proper product details in an eCommerce site. So you can use this plugin to display products along with other information.
It is very easy to create attractive-looking and feature-rich tables in WooCommerce sites. Over 10K online stores are using this plugin now. Convert your product pages into a grid layout and sort them in a table layout. If you want to upsell related products then show them on the checkout page using this plugin.
To make the table designing process faster, WooCommerce Product Table Lite has some pre-designed templates. Allow customers to apply price filters, category filters, etc. Add custom buttons such as Buy Now, Add To Cart, etc. to encourage visitors to make a purchase.
When you have completed all the things show the table by inserting it in any page or post you want. Just copy the shortcode and place where ever you want to display it. There is a lot of third-party integration available to extend the functionalities.
The free version is good to go for new users. However, there is a pro version also available with some additional features. The pro version costs $49 per website with one year of support and update.
Ninja Tables is one of the advanced and beginner-friendly WordPress table builder plugins. Currently, over 70K websites are using this plugin for various table creation. Ninja Tables is a plugin that has every feature you could ask for in a WordPress table plugin.
Creating any type of table is very simple using the visually rich interface. You would get the freedom to choose styles from 100+ table designs. Add media to your custom tables with just a few mouse clicks. You can create responsive WordPress tables for free. Shortcodes give you the freedom to place the table anywhere you want.
You can customize the overall appearance of your tables by tweaking the colors of columns width, rows, background color, heading, and more. If you want to rearrange rows and columns, then just drag and drop inappropriate places. Visitors can set custom data filters to see what they are looking for.
Ninja Tables is one of the best and most trusted WordPress table builder plugins. All the tables created from their software are SEO-friendly and easily index in search engines. You can import or export tables for faster use.
Ninja Tables can be used for free with limited features. Paid plan starts from $49 per website with one-year priority support and update.
Data Tables Generator by Supsystic is another easy-to-use WordPress table builder plugin. This plugin helps you to build responsive tables without editing a single line of code.
Displaying data in visually rich content format is often a headache for many WordPress users. But Data Tables Generator by Supsystic helps you to display your research-driven content in an organized manner. Enter the number of rows and columns you need and hit the add new table button. The table will be visible right away and the WYSIWYG editor allows you to modify data.
You can create visually appealing tables by adding images and graphics, videos, icons, buttons, and links. The table editor interface is very similar to MS Excel. If you know CSS coding then add some custom styling to make the table more attractive.
This plugin allows you to add a large volume of data and rearrange the content with a single click. The pagination functionality helps you to split long tables into readable formats.
The free version of Data Tables Generator by Supsystic comes with all the basic features. If you want to unlock all the premium features then buy a premium plan. Paid plan starts from $46 per website with 1-year support and update.
Visualizer is a powerful plugin for creating advanced custom tables. This plugin is developed by the popular WordPress blog Themeisle. More than 40K users are using Visualizer for creating beautiful responsive tables.
Pre-built customizable table templates are there to start creating tables right away. This plugin offers dozens of unbeatable powerful features. You would get an excel-like editor to create responsive tables. Some of the advanced features include pagination, multi-column ordering, instant text search, filter results, and many more features.
Customize every aspect of the table simply by dragging and dropping elements in the appropriate place. This is also a great data visualization plugin for WordPress. Because you can create charts, graphs and represent data as a visual masterpiece. Choosing from over 15 chart models allows users to create some unique styles of charts. You can synchronic charts with online files like Google Sheets and dynamically change data.
You would get access to extensive self-help materials (300+ product documents and 200+ videos) to resolve your queries quickly. Visualizer has a free version with limited features. If you want to enjoy all the features then buy a paid plan. Paid plan starts from $117 per website with one year of support and update.
League Table is a versatile WordPress plugin for creating beautiful tables. If you are running a website around sports and want to show information about various matches on your site then League Table is the best plugin for you.
Use the visual table builder interface and create a perfect table in a few seconds. A spreadsheet editor comes with 105 options per table, 17 options per cell, and 13 general options. League Table allows you to put more than just simple text into the tables. You can also enter images, URLs, numbers, special formatting, or anything else you need.
This plugin is helpful for bloggers or website owners who want to represent any sort of data in table or visualization format. You can change the color, text size, and other elements of a table. Publish any table on your website using shortcodes.
Import and export functionalities are also available for easy accessibility. You can take the table back up to move to a different website. Don't worry about the language translation. This plugin support multiple languages. Each element can be individually customizable and give a personalized touch.
League Table is only available in the paid version and you can buy it from CodeCanyon. In fact, this is one of the best-selling table plugins in the marketplace. League Table plugin costs $39 per website with 6 months of support.
Service websites and eCommerce sites realize on the pricing tables. Easy pricing table helps you to build awesome-looking tables on the WordPress website. No need to put your hand on HTML coding and spend hours on designing.
Easy Pricing Tables allow you to create tables directly from the WordPress dashboard without touching a single line of code. It can save you a lot of valuable time and effort in building and updating tables. Using the post editor you can directly edit tables as per your requirement.
Specify the width and the height of your table and generate a fantastic responsive table. Easy Pricing Tables comes with 6 pre-design templates. So you can choose a design or start from scratch. Highlight a column to draw customers' attention and encourage them to buy. The default responsive design looks great on any device. Add pricing toggles for pricing and monthly/yearly plans.
You would also get one-click integration for payment processors like Stripe and PayPal. Just paste your payment page link in the pricing table and let the customer do the rest. You can use the classic editor or Elementor page builder for designing different types of tables.
Easy Pricing Tables are available in both free and paid plans. Paid plan starts from $29 per website with 1-year support and update. You would get 60 days money-back guarantee with each plan.
Product Tables for WooCommerce is a table builder plugin for WordPress developed by CodeAstrology. This plugin allows you to build beautiful and feature-rich tables without touching coding or having technical experience.
Adding a WooCommerce product table to your e-commerce site is now easy. Product Table for WooCommerce is here to create custom product tables using the data. This plugin seamlessly integrates with WooCommerce and allows users to show products in an engaging table. Tables are responsive to different device screen types and browsers.
The search and filter option plays an important role in any eCommerce site. Customers can filter products by any taxonomy or attribute such as products categories, tags, price, color, or size. There are some pre-built design templates to get started right away. Import or export table data for future uses. You would get a customizable floating table to let customers faster checkout.
Create various tables such as pricing tables, working schedules, restaurant menus, product lists, product comparison, info, and any other kind of table you can think of. After successful table creation, you can add it to any webpage using shortcode. Extend the functionalities of this plugin using third-party integrations.
CodeAstrology has some more products for eCommerce sites. Product Tables for WooCommerce plugin is available for free with limited features. You can upgrade to the premium version to get access to more features. The premium version costs $29 per website.
Conclusion
So these are some of the best WordPress table plugins you can use. HTML programming can be very unforgiving for beginners. Instead of that, you can use one of the above plugins to create stunning tables.
We have listed some of the handpicked plugins and you can use them right away. Upgrade to the premium version to get access to some additional features.