Email marketing is considered one of the best mediums to directly reach out to customers and encourage them to take some action. This marketing channel is known for its astronomical ROI, which is $42 profit for every $1 spent.
User engagement is more in email marketing than any other form of digital marketing. If you are excited to try this marketing medium, then you need an email marketing service provider.
AWeber is one of the most popular email marketing tools that come with easy-to-use functionalities. Using AWeber's free trial, you can test the tool. I will show you how to activate the AWeber free trial step by step.
So let's get started.
AWeber Free Trial Details
Does Aweber offer a free trial? If this was the question that brought you here, you may now stop your search.
Unfortunately, the answer to this question is no.
Previously Aweber used to provide a free trial of the premium plan. During the trial period, users could test out the tool for free for 1 month.
But recently they introduced the free plan, where you can use the Aweber tool for free for the first 500 customers.
What's Included In AWeber Free Trial or AWeber Free Plan?
You might be curious to know what is inside AWeber free trial? Well, AWeber free trial is no longer available. Usually, a free trial lasts 30-days or 60-days and you have to test all the features during that period.
Now you can use the Aweber tool absolutely free.
With Aweber free plan you get:
All the email templates
Email builder
500 contacts
Converting landing pages
Marketing automation
Sign-up forms
Analytics, etc.
However, you can't access some features like A/B testing, behavioral automation, and webpage tracking. Using the web push notification feature, you can send up to 50K subscribers.
This tool allows you to send 3000 emails per month with the free plan. But all the emails will be attached with an AWeber logo and may encourage subscribers to buy a plan. If you want to remove the AWeber branding, then upgrade to a premium plan.
AWeber don't demand your credit card details. You just have to enter your name and email address to get started. You can keep using the service as long as you want.
If AWeber contains the features you are looking for, then upgrade to a premium plan. This can be done after login into the AWeber account.
AWeber allows you to contact their 24/7 customer support via phone, email, and live chat.
How To Get AWeber Free Trial or Aweber Free Plan?
Are you excited to avail yourself of the AWeber free plan? Then follow this step-by-step procedure to know how to activate Aweber free trial.
Step 1. Click on this link and it will redirect to the official website.
Step 2. Now you can see a Get AWeber Free option on the top navigation menu. Just click on that and the next step will appear.
Step 3. Now it will ask you to enter your first name, last name, and email to sign up. Provide the necessary details and then click on the Sign-Up button.
Step 4. On the next screen, you would get a popup. Now you have to click on the confirmation link sent in the given email. If you have not received the email yet, then just wait or request to send it again.
Step 5. Once you click on the link inside the email, a new tab will be opened automatically. You have successfully verified the email and now proceed further.
Step 6. You can add some more details to the profile or do it later. Now you have successfully activated the AWeber free trial.
What is AWeber?
AWeber is a reliable email marketing tool for small and medium businesses. It was founded in 1998 by CEO Tom Kulzer and now serving thousands of individuals and businesses.
This tool allows you to design custom email, sign-up forms, and landing pages using AWeber's drag-and-drop builder, without touching any code. You can automate email campaigns and trigger messages based on a certain action.
There is a huge library of email templates to get started. All the templates are customizable and can put a remarkable experience. For advanced designing of visual elements, you can use Canva without leaving AWeber.
It allows users to integrate AWeber accounts with various online services to expand functionalities. You can check email campaign performance and monitor opens, clicks, deliverability, unsubscribes, purchases, etc. using the analytics dashboard.
A/B testing feature allows you to test different versions of a single email to check how small modifications can have an impact on your results.
Features of AWeber Email Marketing Tools
AWeber comes with a portfolio of features. Let's check them.
1. Drag & Drop Email Builder
AWeber comes with a drag & drop email builder feature. So you can create professional and responsive emails quickly with no HTML skills. This tool comes with a library of email templates that are responsive and customizable.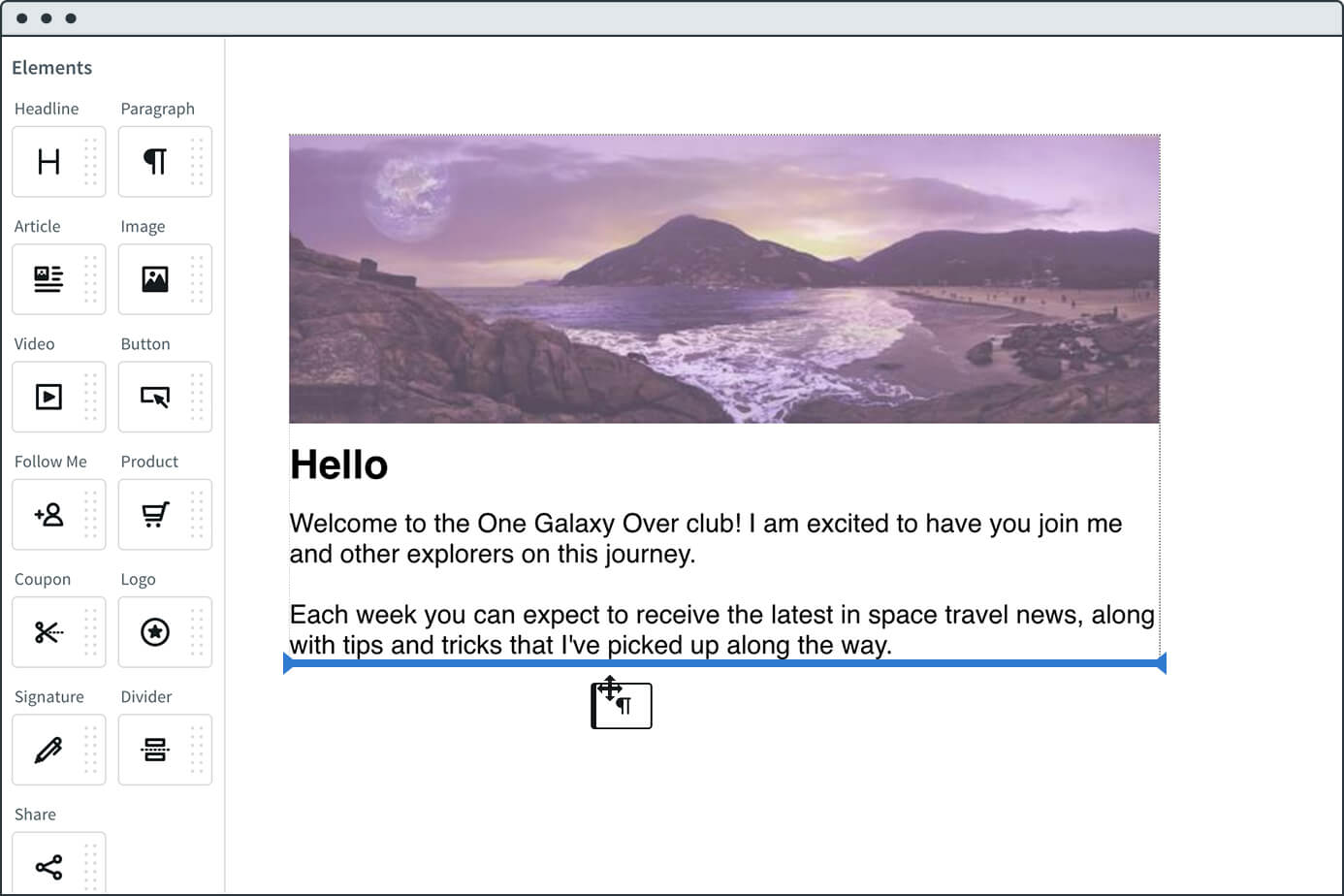 It is easy to use, pretty straightforward, and won't demand much learning curve. You can build professional-looking emails using built-in modules and content elements.
Design custom images using Canva without leaving the AWeber interface. You can preview emails to see how it looks like on different devices.
2. Email Automation
One of the biggest advantages of AWeber is that you would get an email automation feature. This allows you to trigger a series of emails by the actions of your subscribers.AWeber claims that its founder, Tom Kulzer, developed the first-ever autoresponder back in 1998.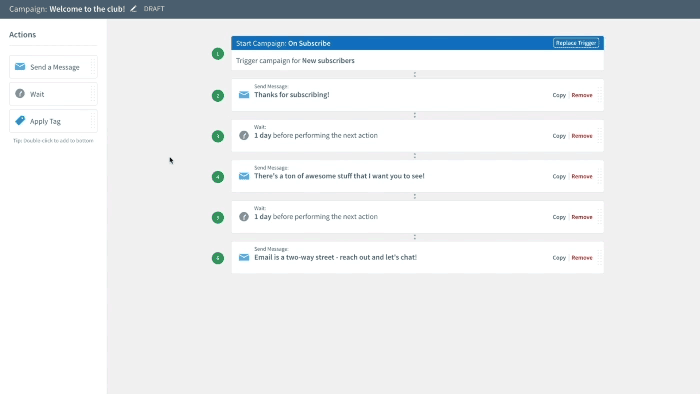 Send welcome emails when a person signs up for a mailing list. Based on your business requirements you can trigger action-based emails and encourage them to keep coming back. This builds a strong relationship with customers and lets you unlock more revenue while you sleep.
Abandoned cart email works like magic that reminds customers to complete the purchase. You can also send new products notification and special discounts emails to customers.
There are many pre-built automation templates to use and you just have to make some tweaks. Using the visual builder you can create custom email campaigns for sending automated emails.
3. Segmentation
The segmentation feature lets you group your email subscribers into sub-categories for better marketing. Customer loves personalized emails and segmentation allows you to send such emails.
AWeber has tags and custom fields features to create dynamic subscriber segments. These tags and custom fields can be integrated into signup forms so that the segmentation can be done automatically. This allows you to keep subscribers in different email lists based on their behavior or action.
Most people don't engage with an email as it is not relevant to them. Once you have the different groups of emails you can send content that is relevant to their needs. You don't have to send emails to your entire email list every time and use the maximum system resources.
4. Email Deliverability
As a business, you always want to send emails that reach a customer. Most importantly, the emails should be landed in the customer's inbox without any deviation. In email marketing terminology it is known as inbox placement.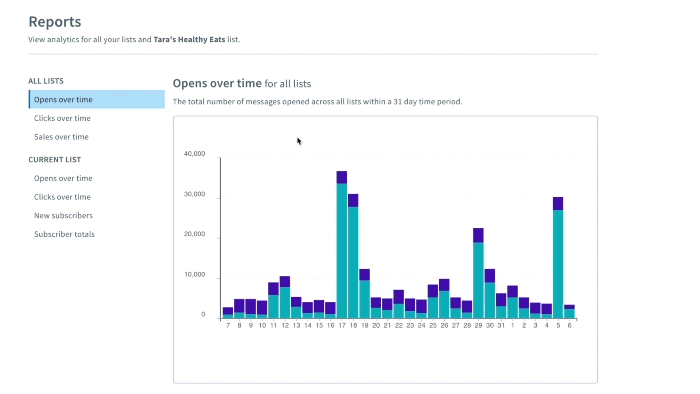 What happened when you keep sending the message to your subscribers, but not everyone received it? Your email campaign performance would be reduced and you can't generate revenue.
AWeber comes with a more than 95% delivery rate which is very impressive. The company has years of deliverability management and expertise. Awesome sender reputation and advanced server infrastructure also maximize the deliverability.
In-house reputation management system keeps an eye on real-time delivery rate and resolves if any issue arises. So your subscribers would get the emails that increase email opens and engagements.
5. Analytics
AWeber comes with an easy-to-understand email analytics dashboard. Marketers live on the numbers and this also happens in email marketing.
After days of crafting an awesome email with proper content and stunning visuals, it's time to distribute it to your subscribers. Then the AWeber tracking algorithm comes into work and reflects all the metrics in the analytics.
You can see the performance report of each email campaign and deep dive into the stats. Check key stats like email opens, clicks, unsubscribes, conversions, etc. To check the performance on the go, you can use the AWeber stats app.
6. Landing Pages & Sign Up Forms
Landing pages are important to collect leads or convert visitors into subscribers. AWeber comes with a powerful and simple landing page builder. You don't have to create dedicated pages for your website. Just create landing pages in AWeber and start marketing.
You can choose a template to get started. There is a drag and drop builder to create pages using various blocks and different types of elements. All the pages are responsive in nature and SEO-friendly. The preview option is also there to see how your landing page looks after being published. You would get a landing page URL to share in various places.
Email signup forms are very important to convert visitors into subscribers. You don't have to use a separate service for creating email signup forms. Using the form builder feature in AWeber, you can create professional-looking forms in minutes.
There are a lot of ready-to-use templates available and you can browse through the different categories. A thank you page can be sent to subscribers after filling out your form. You can create in-line, build pop-up, slider, pop-over, and lightbox forms. After form creation, it can be integrated into your website.
7. Web Push Notifications
To build effective customer communications and engage them, you have to try every possible medium. Using web push notifications businesses can deliver their messages directly to the customer. There is nothing to worry about as it will never end up in a spam folder.
Combining email marketing and push notification can multiply the revenue. An AWeber push notification feature can be integrated into your website and visitors can subscribe to it. When you push messages using this medium, subscribers will get a short clickable message floating on their device.
Subscribers don't have to visit your website to get the notifications. This type of message can be displayed on any type of device. The agenda of push notifications is to encourage subscribers to visit your website or landing page.
8. Powerful Integration
AWeber comes with tons of features. But you can extend it using third-party integrations. You would get easy functionalities to connect with an array of other apps and services.
For easy access, integrations are divided into different groups. The library is vast and there are hundreds of integrations available. You can search for one and integrate it with Aweber.
A software development company can submit its service in the AWeber integration library. You can easily integrate service and boost email campaign performance.
9. Support
You might fall into an issue anytime and your service provider should be ready for that. If you have any questions or need any assistance don't hesitate to reach out customer support team.
AWeber provides 24/7/365 customer support via live chat and email. Phone support is only available during business hours. The support team is knowledgeable and provides instant support. As per the website description, the customer support team got many awards.
If you want to move your email list from another provider then the team will do it for free. There is also a vast knowledge base. You can find hundreds of in-depth articles and step-by-step guides for self-help purposes. Visit their YouTube channel for video tutorials.
AWeber Pricing
AWeber has a straightforward pricing structure. They charge based on the number of subscribers in your email list.
Here is the pricing structure of the AWeber Pro plan on annual billing.
| No. of Subscribers | Price |
| --- | --- |
| 0-500 subscribers | $19.99 per month |
| 501-2,500 subscribers | $29.99 per month |
| 2,501-5,000 subscribers | $49.99 per month |
| 5,001-10,000 subscribers | $69.99 per month |
| 10,001-25,000 subscribers | $149 per month |
If you own an email list of more than 25,000 subscribers, you can contact their support team and they will guide you.
Should I Go For Aweber Free Trial?
The short answer is Yes. There are many benefits of using the AWeber free trial.
Unlimited access to AWeber for 30 days without any break.
No credit card or contract signing is required to enjoy this free trial. You can cancel the service anytime and step back.
If you want to upgrade then it would be one of the most affordable email marketing having dozens of features.
Instant discounts on paid plans for one year or more.
The award-winning support team provides 24/7 support via live chat and email
Conclusion
So these are some of the things you need to know about the AWeber free trial. It is one of the most advanced email marketing tools with a basket full of features.
I have described how to get the AWeber free trial step by step. Click on this special link and get AWeber free trial now.
FAQs Related To Aweber Free Trial